To Learn More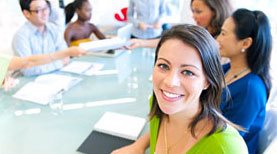 "I remember…
the wise mentors who helped me survive those first years of teaching. Now it is my turn to give back."
- Mentor
Sacramento Teacher Induction Makes a Difference
The Sacramento Teacher Induction Program (SCOE-TI) has been serving teachers since 1992. As an approved Commission on Teacher Credentialing (CTC) Teacher Induction program, we provide a pathway for General Education Multiple Subject, Single Subject and Education Specialists to clear their preliminary credentials. Our two-year program is designed to incorporate the California Standards for the Teaching Profession and the teacher's specific assignment, making induction support the work of a teacher's classroom and/or school and district goals. A robust system of mentoring support is the foundation of our program as teachers strengthen their professional practice.
Our Program Partners include:
ACSI
Amador County USD
American Indian Model School
Arcohe ESD
CA Montessori Project
Center USD
Diocese of Sacramento
Education for Change Charter
Elverta ESD
Envision Charter Schools
Eureka USD
Folsom-Cordova USD
Fortune Schools
Fresno Diocese
Galt Elementary SD
Galt Joint UHSD
Gateway Community Charter
Growth Public Schools
Highlands Community Charter
John Muir Charter
Kelseyville USD
Konocti USD
Lake County International Charter School
Lake County Office of Education
Lakeport USD
Leadership High School
Lucerne ESD
Marconi Learning Academy
Middletown USD
Natomas Arts and Education Foundation
Natomas USD
NP3 Elementary School
NP3 High School
NP3 Middle School
Oakland Military Institute
Pacific Charter Institute
River Charter
River Delta USD
Robla SD
Sacramento County Office of Education
St. H.O.P.E. Public Schools
Twin Rivers USD
Upper Lake USD
Visions in Education
Westlake Charter
Yav Pem Academy
Chris Roe, Ed.D.
Director
(916) 228-2236
croe@scoe.net